Break Free From Emotional Overeating

Using EFT: A Powerful Tool for Relieving Cravings & Negative Emotions
Conquer Compulsive Overeating & Lose Weight with EFT!
An Approach That Finally Works
Are You Sick and Tired of the Dieting Merry-Go-Round?
Dieting and weight-loss programs have low success rates. They tend to focus on what food to eat and/or use "behavioral" approaches to dieting that just depend on will-power. This either works poorly or results in yo-yo cycles of weight loss and gain. Unless the underlying emotional causes of overeating are addressed, weight loss and maintenance will always be a struggle.
The Key Difference: The Emotional Freedom Technique!
What makes this program uniquely successful is the use of the Emotional Freedom Technique (EFT - also known as "Tapping Therapy"). EFT works like "emotional acupressure" to gently and remarkably quickly relieve food cravings and address the true emotional causes of our urge to overeat. Once the cravings and underlying emotions have been addressed, weight loss and maintenance come more easily.
Diet-Free Weight-Loss Program Features
Identify and release the underlying emotions causing food cravings and overeating
Release limiting beliefs and stop self-sabotage
Heal your relationship to food and transform unwanted eating patterns
Testimonial for Using EFT For Weight Loss
Dr. Mercola has used EFT with thousands of patients in his renowned Optimal Wellness Center. He wrote regarding applying EFT to help patients lose weight:
"We have used EFT for several years now with astounding results... It is the most universally effective approach I've ever found to handle the emotions that can block weight loss."*

Testimonials for My Work
"I have experienced wonderful benefits from working with EFT clearing old memories from the past. I trust Stefan in the process to guide me through to the other side and help me to release past hurts and wounds.

I have finally come to a place of being able to live with a joyful heart most of the time. Stefan is a gentle and intuitive healer who is gifted in helping others to open the door to healing." Sollena K Morginn, Life Path Coach.*

"Stefan makes it easy to do EFT because he is incredibly intuitive and supportive. Even the deepest and most painful memories fade away or even appear funny after a session.

I notice major changes after every session, and just after a few sessions I have developed a new calmness and self awareness that I don't ever remember having in my life." Client Testimonial*
*Disclaimer:
These testimonials do not constitute a warranty, guarantee, or prediction regarding the outcome of an individual for any particular issue. Results can vary.
Are You Ready for Your Own Transformation?
Sign Up for a Complimentary 20 Min. Discovery Session
Let's have a chat about how you can get the deep healing and transformation you desire so you can have the life and success you want.

Contact me at stefan@eft-alive.com to set up your 20 minute Discovery Session.

Please note: I only have a limited number of client openings left at this time. Please contact me for availability.
Where can you go from here?
If you would like tips on how to use EFT, sign up for my Tapping Tips For Your Success Newsletter below.

These are short and sweet newsletters with practical, easy-to-digest ways to use EFT to enhance your life.
Get the Tapping Tips for
Your Success Newsletter
(More EFT Help for You!)

   

Get the FREE "3 Secrets to Attracting Amazing Love" Mini-Course
I respect your privacy and will never
share your email address with anyone!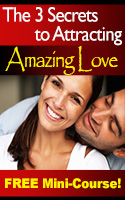 FREE e-Course!

EFT never ceases to amaze me! The process is gentle and often provides benefits where other methods fail.

— Dr. R. Vergini, MD

Your emotional health, your success in the world, and your level of joy can all be dramatically enhanced by shifting the energies that regulate them. That is the promise of the fascinating new field of [EFT].

— David Feinstein, PhD