Encounter Group
The Art of Relationship Encounter Group
(For individuals who are single or in a relationship)
Identify and change unhealthy relationship patterns
Get in touch with your own needs and feelings
Take in the needs and feelings of others
Express your feelings and needs in a way that results in a positive response (rather than defensiveness)
Respond fully to the other person without losing yourself
Learn how to resolve conflicts as allies instead of adversaries
Have closer relationships in your life (romantic and platonic)
The Art of Relationship encounter group focuses on how we relate to each other in the present moment to learn how to have closer, more satisfying relationships with friends and romantic partners.
We will become aware of where blocks to connection with others take place and learn how to relate in a healthy way. The ultimate goal is to relate to others in an open, present, heart-connected way without giving up your power or sense of self.
This is a permanent, weekly encounter group for individuals (who may be in a relationship or not) with openings for both men and women. The group meets Monday evenings and costs $30 to $40 per session (sliding scale).
In addition to the relational focus of this group, we will use Gestalt and other Body-centered techniques to work through the deeper issues underlying our relationship difficulties as well as other non-relationship issues in our lives.
Come for caring, support, challenge and healing.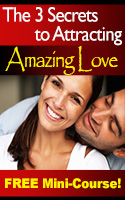 FREE e-Course!

EFT never ceases to amaze me! The process is gentle and often provides benefits where other methods fail.

— Dr. R. Vergini, MD

Your emotional health, your success in the world, and your level of joy can all be dramatically enhanced by shifting the energies that regulate them. That is the promise of the fascinating new field of [EFT].

— David Feinstein, PhD