Expert EFT Phone Sessions

EFT Phone Sessions:
An Effective Way to Do EFT
Unlike traditional psychotherapy, EFT can very effectively be done over the telephone or Zoom.
You can do sessions from the comfort of your home, during a lunch break at work or in your car on your cell phone (not while driving of course). Even locally, phone sessions can make it easier to fit sessions into your busy schedule.
I have been doing EFT phone sessions with people from all around the country for years with great results. I make the call to you (within the USA and Canada) to save you the cost of the call.
A potential advantage of phone sessions is that it may be easier to talk about certain difficult topics on the phone rather than in-person face-to-face.
International EFT Sessions with Zoom!
If you have a high speed Internet connection and Zoom, we can do our EFT sessions internationally. If you have a webcam too, we can also include video.
"Stefan is a gentle and intuitive healer who is gifted in helping others to open the door to healing." — Sollena K Morginn, Life Path Coach*
Click here to read my story and learn more about working with me.
Are You Ready for Your Own Transformation?
Sign Up for a Complimentary 20 Min. Discovery Session
Let's have a chat about how you can get the deep healing and transformation you desire so you can have the life and success you want.

Contact me at stefan@eft-alive.com to set up your 20 minute Discovery Session.

Please note: I only have a limited number of client openings left at this time. Please contact me for availability.
Where can you go from here?
If you would like tips on how to use EFT, sign up for my Tapping Tips For Your Success Newsletter below.

These are short and sweet newsletters with practical, easy-to-digest ways to use EFT to enhance your life.
Get the Tapping Tips for
Your Success Newsletter
(More EFT Help for You!)

   

Get the FREE "3 Secrets to Attracting Amazing Love" Mini-Course
I respect your privacy and will never
share your email address with anyone!
At our core we all have a great capacity for joyful living.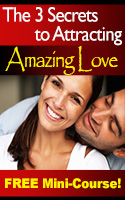 FREE e-Course!

EFT never ceases to amaze me! The process is gentle and often provides benefits where other methods fail.

— Dr. R. Vergini, MD

Your emotional health, your success in the world, and your level of joy can all be dramatically enhanced by shifting the energies that regulate them. That is the promise of the fascinating new field of [EFT].

— David Feinstein, PhD