EFT Tapping Tips for Your Success and Healing
The Tapping Tips For Your Success and Healing EFT Newsletter comes out twice a month. It contains short, easy to digest tips on helping you understand how to use EFT better or describes specific applications of EFT for enhancing your life. The newsletters will contain a mixture of beginning and intermediate level EFT articles.
EFT-Alive is not just about using EFT to feel much better but also for living a delicious and flourishing life!
"I have been reading your newsletter for a while and just wish to thank you. It is truly a good one and I have learned a lot. It is very concise, short and to the point. Hope to take one of your tele-classes some time in future but for now, just want you to know that it is appreciated." — Dana M.
I respect your privacy and will never
share your email address with anyone!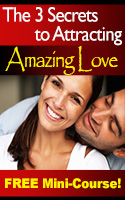 FREE e-Course!

EFT never ceases to amaze me! The process is gentle and often provides benefits where other methods fail.

— Dr. R. Vergini, MD

Your emotional health, your success in the world, and your level of joy can all be dramatically enhanced by shifting the energies that regulate them. That is the promise of the fascinating new field of [EFT].

— David Feinstein, PhD