Healing Grief & Loss — Embracing Life!

Date/Time:

Fall 2010, 10 - 5:30pm

(check-in 9:40)

Location:

Mobius Center of Healing Arts

• Eastworks Building
116 Pleasant St, Suite 216
Easthampton, MA 01027 (Map)

Cost:
$118 ($98 if payment received by ??)

See Registration Info below.
Have you experienced these types of grief?
The loss of a loved one?
The loss of an important relationship in your life?
The loss of something of great significance to you?
Unfortunately, time does not heal...
Some people have waited 20 years for their grief to heal. Time alone doesn't heal grief. Instead, griefs and losses pile up and weigh us down, draining life energy out of us. Unhealed grief causes us to withdraw from the world and emotionally contract, experiencing a background of heaviness or "deadness" in our lives. Most of us accumulate a backlog of unhealed griefs that gets reactivated whenever we experience a new loss, which greatly magnifies the pain of the new loss.
How do you heal a broken heart?
The fact is that most of us don't understand what is needed to heal grief and don't have the tools with which to do so. In fact, our society shies away from facing grief and encourages people to just "keep busy" as a way of avoiding the pain. Sadly, this is not an effective healing solution.
Let's heal these old griefs and losses and regain lightness and freedom
in our lives using the Emotional Freedom Technique (EFT)
The Emotional Freedom Technique (EFT Tapping Therapy)
What makes this workshop uniquely effective is the use of EFT which works like emotional acupressure to help you gently and remarkably quickly release negative emotions, such as shock, sadness, grief, guilt, regret, anger and fear. This clears the way for you to recover your aliveness and zest for life.
EFT has a proven 90% success rate! (see supporting research summary).
Workshop Details
In this workshop, we will deal with the many facets of grief and give you an understanding of how to work through them. You will learn the Emotional Freedom Technique, and we will use it to help you get relief from your pain today. You will also be able to continue using EFT on your own after the workshop to complete your healing journey. In fact, EFT will be an invaluable tool for you to get relief any time you experience emotional pain in your life.
Testimonials for my workshops:
"I have experienced wonderful benefits from working with EFT clearing old memories from the past. I trust Stefan in the process to guide me through to the other side and help me to release past hurts and wounds. I have finally come to a place of being able to live with a joyful heart most of the time. Stefan is a gentle and intuitive healer who is gifted in helping others to open the door to healing." Sollena K Morginn, Life Path Coach.

"I think this workshop provided an excellent basic training in the application of EFT to one's own life, to clarify and fulfill one's hopes and dreams. What delights me is the possibility I can simply use what Stefan has taught us here in order to remove numerous obstacles I've allowed to block my own progress and self-fulfillment." Steve

"I attended an EFT 1 workshop with you this past Spring and it really helped me turn a corner in my life. I had been struggling with Post Partum Depression and a chronic dietary yeast problem, both of those resolved within a few weeks of changing my diet and using EFT."
Jolene Cook
Testimonials for EFT
"As a Nurse Practitioner in Mental Health, I find that EFT is the most effective technique with the quickest results that I've ever experienced." Trish Murphy
"I have overcome panic disorder, depression, and a host of other issues quickly, and amazingly. My family thinks this is great, and my wife wishes I would shut up about it sometimes, but it is hard when you are so excited." Bill Torp
Pre-registration and Payment Information
For further information contact:
Stefan at (413) 527-5491 or stefan@EFT-Alive.com
To pre-register, please mail your check payable to:
Stefan Gonick
44 Burt Road
Westhampton, MA 01027
Please include your name, address, phone number and email address.
Or you can securely pay with a credit card via Paypal: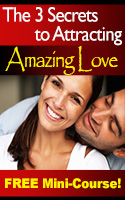 FREE e-Course!

EFT never ceases to amaze me! The process is gentle and often provides benefits where other methods fail.

— Dr. R. Vergini, MD

Your emotional health, your success in the world, and your level of joy can all be dramatically enhanced by shifting the energies that regulate them. That is the promise of the fascinating new field of [EFT].

— David Feinstein, PhD