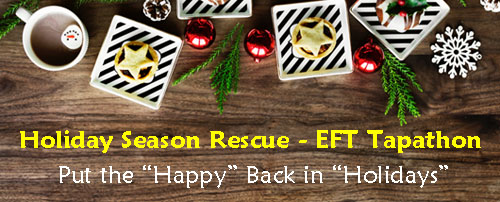 Date:
Tuesday, December 11, 2018

Time:

8pm - 9:30pm eastern time

(call 5 min. early)
7pm - 8:30pm central time
6pm - 7:30pm mountain time
5pm - 6:30pm pacific time
Cost:

$29
Relieve Stress and Get a Big Boost for the Holidays
Are you...
Feeling dread about going home for the holidays?
Afraid of being sucked back into family drama?
Afraid of being judged by your family?
Stressing out about getting everything done on time?
Feeling dread or anxiety about going home makes sense because there are no people who can trigger you more than your own family!
Sure, you moved out of your family home many years ago. You've been working on yourself and growing in so many ways...
And then you show up at your parents' house and BAM, you're back to feeling like a messed up teenager! Yeesh!
And then there are all of those dreaded questions:
Are you dating anyone? When are you going to get married?
When are you going to give us another grandchild?
Have you gained weight?
What are you doing with your life?
You can end up feeling like you have lost any sense of personal power. Old hurts come up. It's easy to feel misunderstood and like you're being pigeon-holed back into being 15.
You love your family, and yet...they can drive you bonkers! And that's just in anticipation of going home! :)
If only there was a way to release this holiday stress and be more centered and grounded around your family...
EFT to the rescue!
Come join the Holiday Season Rescue - EFT Tapathon where you will:
Get relief from stress of the holiday craziness
Feel more centered and grounded around your family
Feel more empowered
Restore your peace of mind
Let's make this year a truly happy holiday season.
Live Video Tapathon
This will be a live group video call using Zoom. Zoom is similar to Skype (but better) and is free to use on your computer or smart phone.
Note: If you are using a computer, the Zoom link will download it's app to your computer automatically. If you are using a smart phone, please download the Zoom app in advance.
Video Recording Available
There will be a recording of the video made available after the tapathon if you can't make it live or would like to tap along multiple times.

EFT Borrowing Benefits
In this 1.5 hour EFT Tapathon, we will use the EFT " borrowing benefits" process to give each participant a significant healing experience.
The way that borrowing benefits works is as follows. Each participant will bring a list of specific stresses, issues and memories that s/he would like to address. I will work with as many people as I have time for in the 90 minute call.
While I work with one person, everyone else will tap along as if s/he was that person, saying all the same things at each tapping point.
What you'll discover is that you'll experience progress on your own issues from tapping on the other person's issue, even if you don't have that issue in common. If you do share the same issue, you will get even more benefits, and there is a lot of universal pain around the holidays.
The borrowing benefits process is a very effective way to help a group of people achieve significant healing at the same time. Click to read an in-depth description of borrowing benefits.
"Seek healing, a refilling of energy and spirit, as soon as you see that you need it. You don't have to push yourself to give, do, or perform when what your body, mind, soul and emotions need is to heal." -- Melody Beattie
Important EFT Tapathon Information:
EFT Tapathon Waiver (must be read before participating)
Testimonials From Past EFT Borrowing Benefits Groups
"I most appreciate your gentle acceptance of all issues and concerns expressed today. It allowed for deep sharing and certainly greater benefit than otherwise would have happened." Workshop Participant
~~~~~
"I have experienced wonderful benefits from working with EFT clearing old memories from the past. I trust Stefan in the process to guide me through to the other side and help me to release past hurts and wounds. I have finally come to a place of being able to live with a joyful heart most of the time.
Stefan is a gentle and intuitive healer who is gifted in helping others to open the door to healing. I would recommend the Borrowing Benefits seminar as a simple way of doing some intense healing work in a short time. Try it, you will be truly amazed." Sollena Morginn, Life Path Coach, Polarity Therapist.
EFT Tapathon Pre-requisite
Please note: You need to have a basic understanding of the EFT tapping process in order to participate in this EFT Tapathon. If you don't already know how to do the basic tapping process, please do the following:
Watch my How to Do EFT video before the call. It would help to practice tapping on the points and to print out the tapping diagram and have it in front of you during the call.


EFT Tapathon Preparations
Make a list of what is most stressful for you this holiday season.


Make sure to be as specific as possible as you create your list rather than making general statements.

For instance, don't just say that it will be stressful to see Uncle Fred at the family dinner. Say what is

specifically

stressful about seeing Uncle Fred. For example, "I hate how Uncle Fred makes comments about my work. I feel so judged."
Registration and Information
For further information contact:
Stefan Gonick at stefan@EFT-Alive.com
To register, sign up here:
Holiday Season Rescue - EFT Tapathon